Tilman Skowroneck, Harpsichord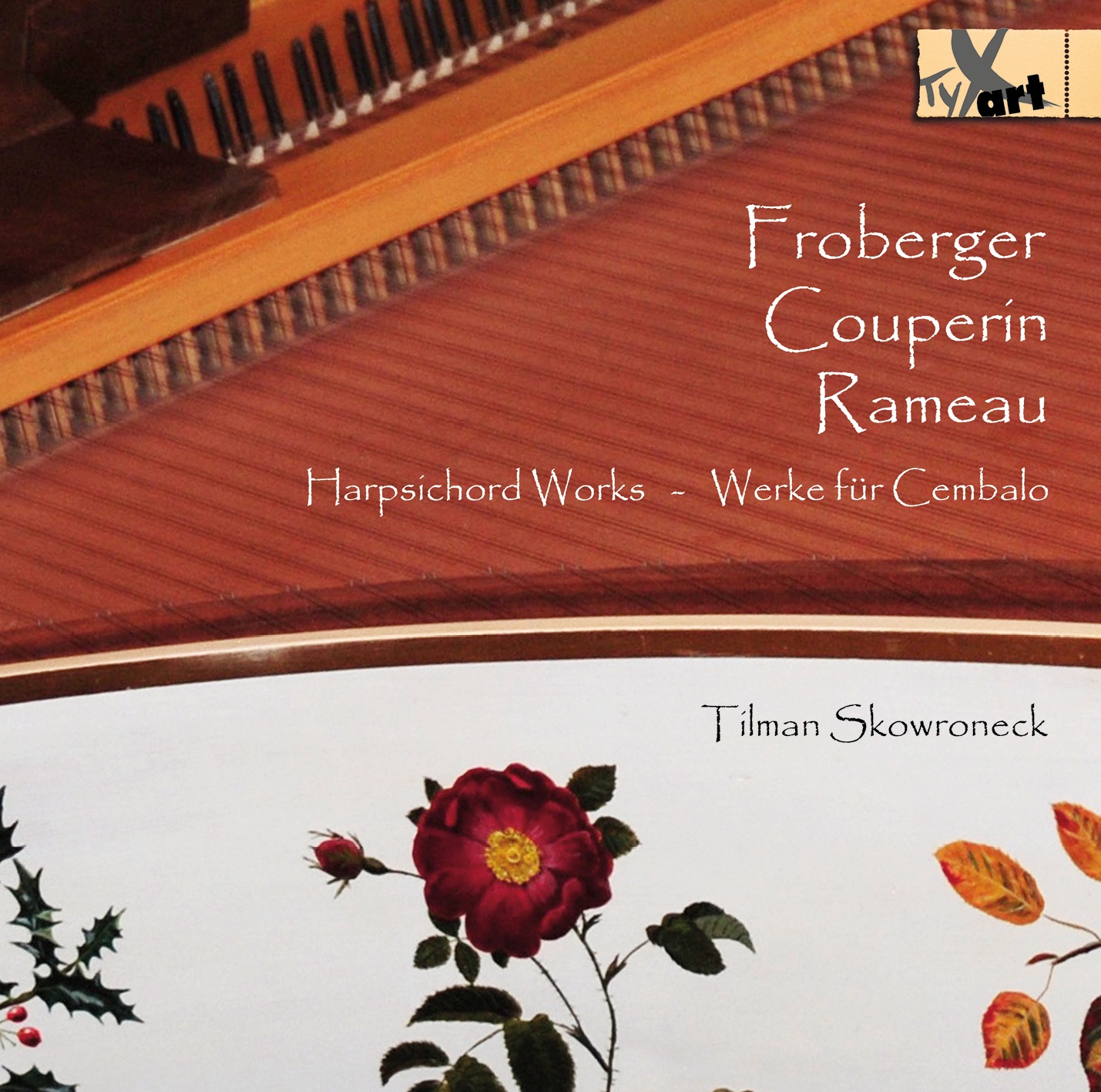 Exquisite Works by Froberger, Couperin and Rameau

Johann Jakob Froberger (1616–1667) is today mostly known for his often virtuosic and idiosyncratic keyboard works. Born in Stuttgart, he settled in Vienna in 1737. From there, he traveled to Rome to study with Girolamo Frescobaldi. After 1649 he began traveling further abroad, and it was during this period that he became acquainted with the leading musicians of Paris. His musical style is indeed marked by both Italian and French elements.
The introductory Toccata, with its alternation between virtuosic and quasi-improvisatory passages and stricter, polyphonic ones, bears witness to Italian, French and also German influences. The following suite is, in contrast, written in the French style. On the occasion of the death of his employer Ferdinand III in 1657, Froberger wrote a Lamento—an utterly melancholic and profound piece of music.

Louis Couperin (c. 1626–1661)—one of the musicians that Froberger almost certainly learned to know in Paris in 1652—was the organist at St. Gervais and a court musician. Several unmeasured Preludes by Couperin, written in the style of the French lutenists, survive. The Prelude chosen here includes a polyphonic middle section. The selection of dance movements on this CD is based on the editorial work of Alan Curtis (1934–2015) and intended as a homage to Curtis.
The Paris Lutenist Blancrocher is said to have fallen down a flight of stairs and died, in fact, in Froberger's arms. Both Froberger and Couperin wrote a Tombeau—a musical tombstone in the Lamento style—for the unlucky Blancrocher. Couperin's piece is a contemplative depiction of the funeral itself, focusing on a recurring imitation of the church bells.

Jean-Philippe Rameau (1683–1764) belonged to a later generation, yet he chose to open his first collection of harpsichord pieces (1706) with an unmeasured Prelude in the old tradition. The following suite is written in the newest French style and features elegant and exquisitely harmonized dance movements and character pieces.

... a further special quality: This recording was initiated by Bengt Nässén, the owner of the harpsichord by Martin Skowroneck (1926–2014)—one of the pioneers of the modern movement of harpsichord construction on historical principles—that is featured here. Initially, Harpsichord player Tilman Skowroneck was planning to play music by Bach and Handel on this German instrument, which is based on early eighteenth-century models, but after acquainting himself with the instrument's possibilities, he was led in a different direction. Its sound is located somewhere between Italian brilliance and a more intimate vocal character. Some French builders of the seventeenth century made instruments whose characteristics were quite similar, even though they arrived at these results by different constructions. And so the idea was born to use this sound to retrace the connections between the Italian and French sound worlds of the late seventeenth century.

Tilman Skowroneck was born in Bremen (Germany) in 1959 and studied harpsichord with Bob van Asperen, Anneke Uittenbosch, Ton Koopman and Gustav Leonhardt in The Hague and Amsterdam. After his studies he established himself as a freelance harpsichordist in Germany and Holland. In 1991 he was engaged as harpsichordist and fortepianist in the newly founded Swedish baroque group Corona Artis. Since 1996, Tilman Skowroneck has participated at various early-piano seminars at the University of Gothenburg and the Gothenburg organ centre GOArt. During the fall semester 1999, he studied fortepiano and performance practices with Malcolm Bilson (Cornell University). His book "Beethoven the Pianist" was published by Cambridge University Press in 2010. Tilman Skowroneck is senior lecturer for musical performance at the Academy of Music and Drama, University of Gothenburg.

[extract of the booklet text]
Free Audio Samples of this CD album!
INTERNATIONAL PRESS REVIEW ABOUT THIS NEW ALBUM:
CD Review and Tip!
Opus Klassiek, Aart van der Wal, BeNeLux/international (online 06/2018)
Klassik Heute Recommendation and CD of the Week!
Classification: In all Categories (Artistic Quality / Sound Quality / General Impression) max. Points
klassik-heute.com, Germany/international (June 13, 2018)
CD Album Recommendation!
MUSICALIFEITEN, Jan de Kruijff, The Netherlands/international (online 06/2018)
"This recording is a pleasure to listen to and I enjoyed it very much."
Performance, Recorded sound, Booklet notes and Overall presentation: ✩✩✩✩✩
EarlyMusicReview.com, international (online 10/2018)
Review & Recommendation!
»[...] virtuoso brilliance - very special expression!«
Magazine 'Die Tonkunst', Almut Jedicke, Germany (Edition 3-2018)
CD Tip!
»A wonderful, enchanting harpsichord playing!«
Newspaper 'Recklinghauser Zeitung', Germany (Sept 03, 2018)
WDR 3 TonArt CD Review
»Repertoire: ✩✩✩✩✩ 5 Stars!«
Radio WDR 3 TonArt, Elisabeth Richter, Germany (Radio Broadcast, Aug 14, 2018)
CD programme / Tracklist:
Johann Jakob Froberger (1616–1667)
Toccata VI in A minor 03:26
Suite IV in A minor
Allemande 03:03
Gigue 01:53
Courante 01:42
Sarabanda 02:50
Lamentation, faite sur la tres douloreuse Mort deSa Majeste Imperiale, Ferdinand le Troisieme, et se joüe lentement avec discretion 07:24

Louis Couperin (c. 1626–1661)
Prélude in D minor 05:26
Allemande 02:51
Courante 01:25
Courante 01:45
Sarabande 03:32
Canaries 01:06
La Pastourelle 01:20
Chaconne 02:56
Tombeau de Mr. de Blancrocher par Mr. Couperin 07:10

Jean-Philippe Rameau (1683–1764)
Suite in A minor (premier Livre de Pieces de Clavecin)
Prélude 03:20
Alemande 04:48
2e Alemande 02:07
Courante 02:08
Gigue 02:40
1ere Sarabande 01:25
2e Sarabande 01:31
Vénitienne 01:27
Gavote 01:39
Menuet 01:20



Tags: Keywords Froberger Couperin Rameau Cembalo Skowroneck 4250702800651 TXA15065 TYXart
» Detailed CD booklet includes further info (bios, photos, etc.)
» Total playing time: 71min 00sec | Booklet Text: DE, EN, FR, JP
» Recording: Jonsereds kyrka/Sweden | Mastering: 2018
» Format: 1 Audio-CD | Series "Early Music" | RD int'l from 07/2018
» Order No.: TXA15065 | GTIN (EAN): 4250702800651 | LC28001
» CD available commercially or directly via TYXart
Another CD with Tilman Skowroneck:
"Johann Sebastian Bach"
Information about Harpsichord player Tilman Skowroneck:
skowroneck.wordpress.com
Information about "Harpsichord Pioneer" Martin Skowroneck:
Martin Skowroneck at wikipedia